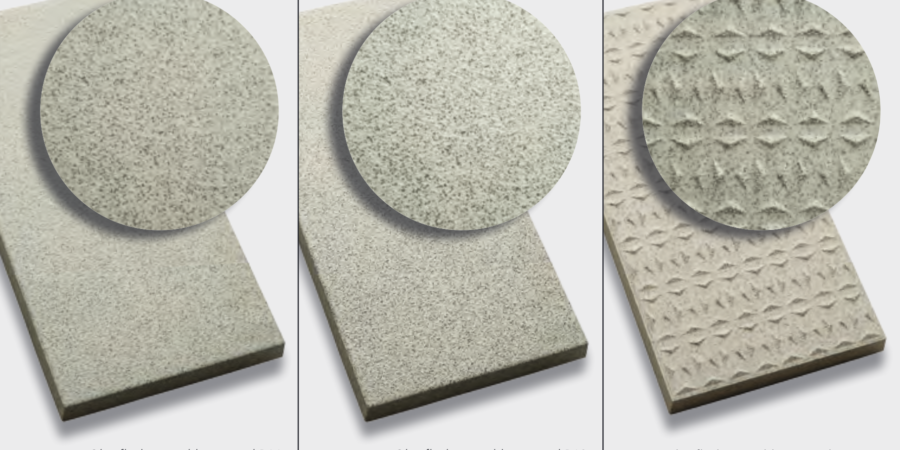 Sure-footedness on the floor
Danger of slipping averted
For reasons of occupational safety and to avoid accidents, an anti-slip surface with a safety profile is prescribed in industry and trade. So that no employee or customer can slip, a certain friction value between floor and floor must be given. Sliding surfaces, which are advantageous, for example, for pushing trolleys, impair the required friction value. For floors with a flat and smooth surface, a little moisture is sufficient to make them a real danger of slipping. Depending on the room and function, there are professional association rules for safety and health and guidelines of the Federal Institute for Occupational Safety and Health (Bundesanstalt für Arbeitsschutz und Arbeitsmedizin), which have created various assessment groups for this risk of slipping. These are based on how often slip-promoting substances such as liquids get onto the floor, whether it is a covering for stairs and much more. Among these slip-promoting substances are, among others:
Water
oils
alkalis
fats
food
dust
flour
food scraps
plant waste
These rules do not apply in rooms that are used dry and that as a rule do not contain sliding substances on the floor.
What is slip-resistant?
Non-slip surfaces are therefore the best guarantee for effective accident prevention, but should always be suitable for the respective environment. The question of what the best floor covering should have in terms of slip resistance cannot therefore be answered in general terms. In order to ensure a uniform classification of how slip-resistant a floor covering is and to recommend the optimum protection for each location, the evaluation groups were divided into R9 to R13:
R9 has a low slip resistance and is recommended for private use.
R10 has normal surefootedness and is recommended for inclines of up to 10 degrees.
R11 has increased slip resistance, is already approved for accessibility and recommended for inclines of up to 19 degrees.
R12 has a great surefootedness and is recommended for an inclined plane up to 35 degrees.
R13 has the highest slip resistance and is suitable for all higher inclination angles.
Some floor coverings are also marked with a letter A, B or C, which can be placed behind the R classification. It shows the surefootedness of walking barefoot:
A stands for dry floors (such as changing rooms).
B stands for wet floors (showers for example)
C for swimming pools (water-bearing stairs in swimming pools, for example)
Therefore, porcelain stoneware is available with all classifications in order to offer the optimum step for every floor.