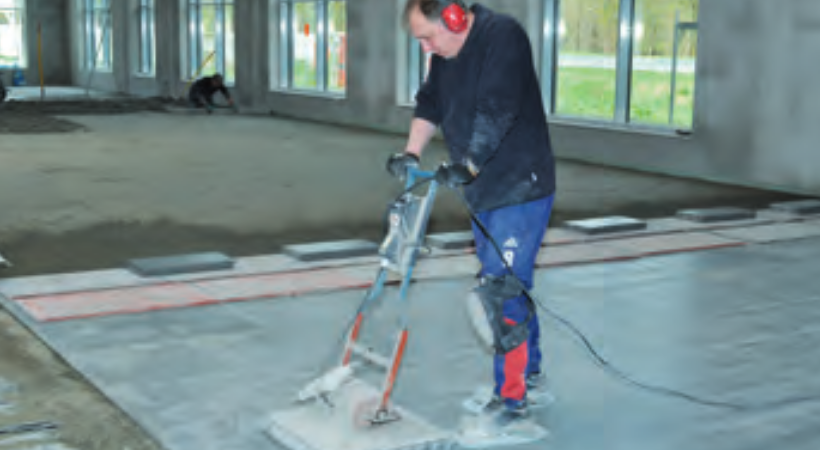 The vibrating installation – technical information
Modern jogging installation
The fastest method for larger areas
Ceramic vibratory laying is the most effective floor covering system for laying on large areas in the commercial and industrial sector that have to withstand very heavy loads. This technique was developed according to the "Guidelines for the Production of Ceramic Floors".
Floor coverings in the vibrating process" of the working group quality assurance vibrating coverings
(AK-QR) for a long service life of ceramic floors in heavy-duty industries.
When vibrating, porcelain stoneware is mechanically vibrated into a bed of mortar with high compaction. This procedure melts the floor covering with the bedding and results in a completely even surface which can withstand the highest loads. The installation is carried out narrow-jointed with simultaneous mechanical knocking in one operation. Since it is no longer necessary to align each row of slabs individually, jogging is extremely fast. It is also effective, precise and allows very large areas to be completed in the shortest possible time and at a very favourable price. Without the dreaded plate overhangs or lower teeth, lift trucks and other rolling equipment cannot cause the edges to flake.
Jogging has the following advantages:
Short laying time
Cleaner installation than manual installation
Low downtime
Low joint content
Extreme stability
Resists wear
Long life
Easy cleaning
cost efficiency
The requirements for the substrate are roughly the same as for traditional laying. The mortar is applied and levelled off. A cement-enriched contact layer of cement or slurry is applied to the smooth mortar surface. If cement powdering is used instead of slurry, subsequent moistening is necessary. The porcelain stoneware tiles are then laid and vibrated with roller vibrators at up to 10,000 vibrations per minute, which shakes them and knocks them evenly. The tiles are then cleaned with a damp sponge. The floor is walkable after seven days and fully loadable after 28 days.