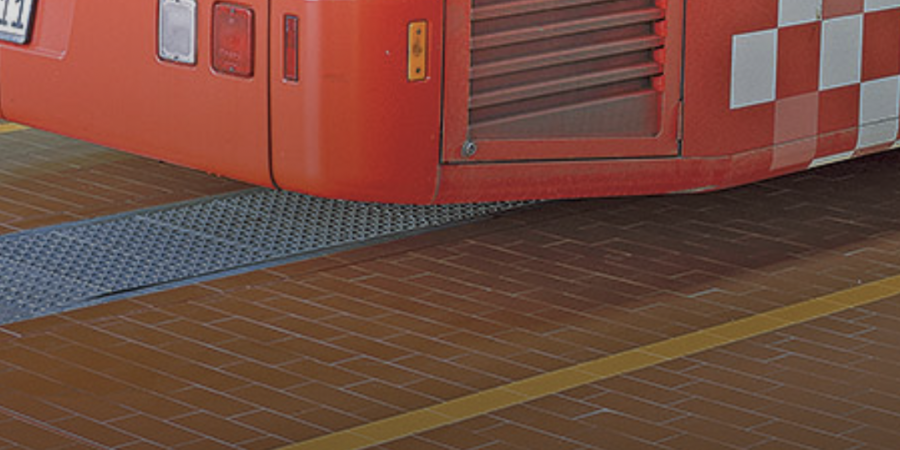 Hygienically perfect & heavy-duty tiles
Commercial and industrial floors must meet the toughest requirements and be uncompromisingly resilient. Many laws, ordinances and guidelines precisely regulate the minimum requirements for floors in the individual industries. The food hygiene regulations, for example, require extreme hardness to protect against chipping when forklifts and pallet trucks are driven on, as well as an easy-to-clean surface. The porcelain stoneware tiles meet and exceed these requirements for every industry.
The loads caused by vehicles weighing several tons, huge tanks, heavy containers, large machines and rough lift trucks must not damage the floor, as must falling equipment or thousands of visitors. The point load caused by particularly heavy equipment is a major problem for many floors. All these stresses are common in workshops, bottling plants, fleet halls, shopping centres, supermarkets and many other companies.
At the same time, the floor must ensure perfect hygienic conditions and therefore be very easy to clean. This is the most important factor, especially for companies working with food. Incorrect tiles or other floors can cause bacterial cultures to grow in the joints, cracks and cracks.
This should be provided by a commercial and industrial floor:
Extreme point loads
Resistant to wear, splintering and abrasion
Resistance to water, alkalis and acids
Easy cleaning without room for bacteria development
Colour fastness and sure-footedness
Porcelain stoneware tiles can do all that. They are dry pressed from natural clay and hardened at about 1,000 degrees. This elaborate process makes our floors exceptionally resilient and hard-wearing. Due to the fire sealing, the tiles are also particularly resistant to dirt, abrasion and wear. Virtually no water, lyes or grease can penetrate the ceramic material. Even acids cannot harm the floor, which makes it the floor covering of choice in workshops and laboratories. The economical vibration process ensures that even the most merciless point loads are absorbed. The porcelain stoneware is also slip-resistant, which virtually excludes slipping.